What Our Patients Like Most About Our Pharmacy
We would love your feedback! Please let us know how we are doing and leave us a review below.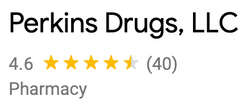 "Prices are affordable, & services are better than most pharmacy's I've experienced!"

"A wonderful staff with informative pharmacists, make for a fast but very personal experience when you do business at Perkins!"

"Family owned and operated. Extremely friendly staff."

"Great employees. They answer any questions you may have and explain where you can understand."

"They look after their customer's with the best cost possible. I am sure that long time residents already know about this but being a newbie I am so glad I finally was introduced to this fantastic business."

"Gotta love your home town pharmacy!"

"Their prices are seriously unbeatable. Not enough time to write all of the good things we can say about Perkins!! A TRUE home town pharmacy!"

"Fabulous pharmacy! I switched to them the first time checking them out and have never been happier with the service. Honestly, it's the best pharmacy I've been too."

"Very clean and welcoming Pharmacy. They carry a little bit of everything related to medical. I will continue to use and would DEFINATELY recommend this business."
We would appreciate your feedback to share on this page of our website. We'd like to let others know what our current customers have to say about Perkins Drugs! Thank you in advance for your time and consideration.